Dr. Bhimrao Ramji Ambedkar | Biography, Books, Life, Family, History & Facts
Bhimrao Ramji Ambedkar also known as Baba Saheb Ambedkar was born on April 14 1891 at Mhow in Madhya Pradesh, India. He was a good student earning doctorates from both London University and Columbia University of London.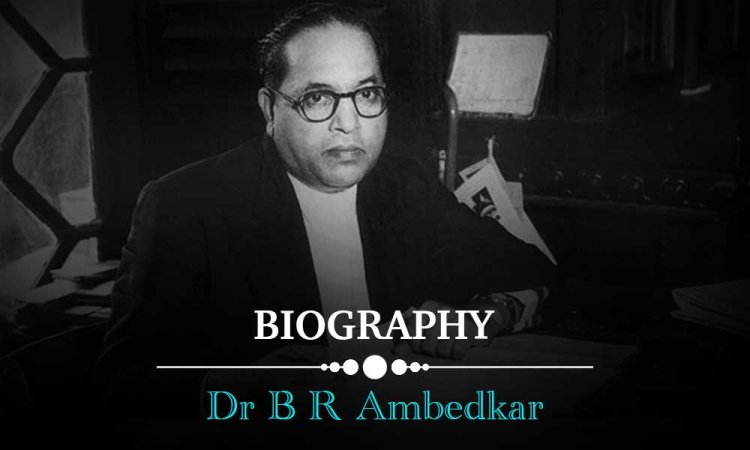 Dr. Bhim Rao Ambedkar, a fighter in the cause of Annihilation of Caste, was born in a low-caste Mahar family on 14th April 1891, at Mhow cantonment, where his father served in the Army.
Dr. B.R.Ambedkar was appointed as India's first law minister in the cabinet of the first prime minister of India, Pandit Jawaharlal Nehru. In 1990 Dr. B.R.Ambedkar was awarded Bharat Ratna, which is India's highest civilian honour.
Personal Details:
Full Name: Bhimrao Ramji Ambedkar
Date of Birth: 14th April 1891
Death Date: 6th April 1956
Cause of Death: diabetes
Age(at the Time of Death): 65
Who is Dr B.R. Ambedkar?
Bhimrao Ramji Ambedkar also known as Baba Saheb Ambedkar was born on April 14 1891 at Mhow in Madhya Pradesh, India. He was a good student earning doctorates from both London University and Columbia University of London. He gained a reputation as a scholar for his research in law, economics, and political science. in his early carrier he was an editor, economist, professor, and activist who was against the discrimination Dalits faced because of caste.
Dr. B.R.Ambedkar's later career included participating in political activities. He was involved in campaigning and negotiation of India's Independence. After Independence, he became the chairman of the drafting committee of the Indian constitution. After India's independence, he was the first minister of law and justice and is considered to be the architect of the constitution of India.
In 1956 he converted to Buddhism, resulting in the mass conversion of Dalits.
In 1948, Ambedkar suffered from diabetes after fighting diabetes for almost seven years Ambedkar passed away in his sleep on December 6 1956 at his home.
Ambedkar History
Dr. B.R.Ambedkar was born in Mhow of Madhya Pradesh. His father was Ramji Makoji Sakpal who was an army officer in the British India army. Dr. B.R.Ambedkar was the fourteenth son of his father. Bhimabai Sakpal was his mother. His family was of Marathi background from the town of Ambawade. Dr. B. R.Ambedtkar was born as a Dalit and he was treated as an untouchable. He was subjected to regular social and economic discrimination. Although Ambedkar attended school, he and other Dalit students were treated as untouchables. They were separated from another group of students from other caste and were not given attention by the teachers. They were even not allowed to sit with other students for their own drinking water. He used to drink water with the help of the peon as he and other Dalit students were not allowed to touch anything.
His father retired in 1894 and his mother passed away 2 years after they moved to Satara. Of all his brothers and sisters, Ambedkar was the only one who passed his examination and went to high school. Later in high school, his school, a Brahmin teacher changed his surname from Ambadawekar which was given by his father to Ambedkar in records. This shows the level of discrimination that was done on Dalits.
Dr. Bhim Rao Ambedkar Education
In 1897, Ambedkar became the only untouchable to get enrolled at the Elphinstone High School. In 1906, Ambedkar who was 15 years old married a 9 years old named Ramabai. The marriage was done by the couple's parents as per the rituals. In 1912, he obtained his degree in political science and economics from Bombay University and was employed by the Baroda state government. In 1913, Ambedkar moved to the United States as he was awarded a scholarship for three years by Sayajirao Gaekwad three. The scholarship was designed to provide opportunities for post-graduate education at Columbia University in New York City. In 1915, he majored in Economics, Sociology, History, Philosophy, and Anthropology.
In 1917, he completed his master's degree and wrote a thesis on "The problem of the rupee- its origin and solution" and in 1923 he completed D.Sc in Economics which was awarded by the University of London.
Dr. Bhim Rao Ambedkar Achievements:
In 1916, Dr. B.R.Ambedkar worked as the defence secretary for the princely state of Baroda. As he was a Dalit, wor was not easy. He was ridiculed by the people and often ignored. After continuous caste discrimination, he quit his job as the defence secretary and took up jobs as a private tutor and accountant. He later established a consulting firm but it failed to flourish. The reason has been that he was a Dalit. He finally got a job as a teacher at the Sydenham College of Commerce and Economics in Mumbai.
As Ambedkar was a victim of caste discrimination, he thrived to uplift the pitiable state of the untouchables in society. He founded a weekly journal called "Mooknayak" which enabled him to criticize the beliefs of the Hindus. He was passionate to eradicate the practice of caste discrimination in India which led him to establish "Bahishkrit Hitakarni Sabha". The main goal of the organization was to provide education to the backward classes.
In 1927, he continuously worked against untouchability. He followed the footsteps of Gandhi and led a Satyagraha movement. The untouchables were denied access to the main source of drinking water and entry in Temples. He fought for the rights of the untouchables.
In 1932, the "Poona Pact" was formed that allowed reservation for the depressed class in the regional legislative assembly and central council states.
In 1935, he founded the "Independent labour party" which secured fourteen seats in the Bombay election. In 1935, he published books such as 'The Annihilation of Caste' which questioned orthodox Hindu beliefs, and the very next year he published another book by the name 'Who Were the Shudras?' in which he explained how the untouchables were formed.
After India's Independence, he served on the board of the defence advisory committee and as the minister for labour for the 'viceroy's executive council'.His dedication towards the work earned him the chair of India's first law minister. He was the first chairman of the drafting committee of the Constitution of India. He also established the finance committee of India. It was through his policies the nation progressed both economically and socially.
In 1951, 'The Hindu Code Bill' was proposed to him, which he later rejected and resigned from the Cabinet. He contested for the seat of Likh Sabha but was defeated. He was later appointed to the Rajya Sabha and remained a member of the Rajya Sabha until his death in 1955.
What's Your Reaction?