Want To Be Protected From Bank Scams? This Twitter Thread Is All You Need To Avoid Scams!
She almost fell for a scam since the text message sent her to a "very convincing landing page" on a website that seemed to be the bank's official page. Let's take a deeper dive at this story.
Criminals are getting more and more access to users' financial and personal information, and bank frauds are becoming a frighteningly prevalent occurrence. Unfortunately, a lot of individuals have become victims of scams, and the number has been steadily increasing in India over the past several years.
A recent incident involving a bank client had her receiving an SMS from an unknown cellphone number asking her to update her PAN information. Fortunately, she picked up on something strange and realized it was a bank heist. The woman has since compiled helpful advice to recognize such phishing
She Almost Got Scammed...
She almost fell for a scam since the text message sent her to a "very convincing landing page" on a website that seemed to be the bank's official page. However, she was saved. This is what transpired.
It's quite frightening how effective phishing and banking schemes have grown, tweeted Lavanya Mohan. I received this text message only 15 minutes ago, and the link took me to this VERY CONVINCING landing page.
Additionally, she submitted a screenshot of the landing page that appeared after clicking the link. The page asks for login information, has a false HDFC KYC logo at the top, and declares that it is "Norton Secured" and that "your security is of the utmost importance." Not to mention, the page's URL is strange as well.
How to spot these scams?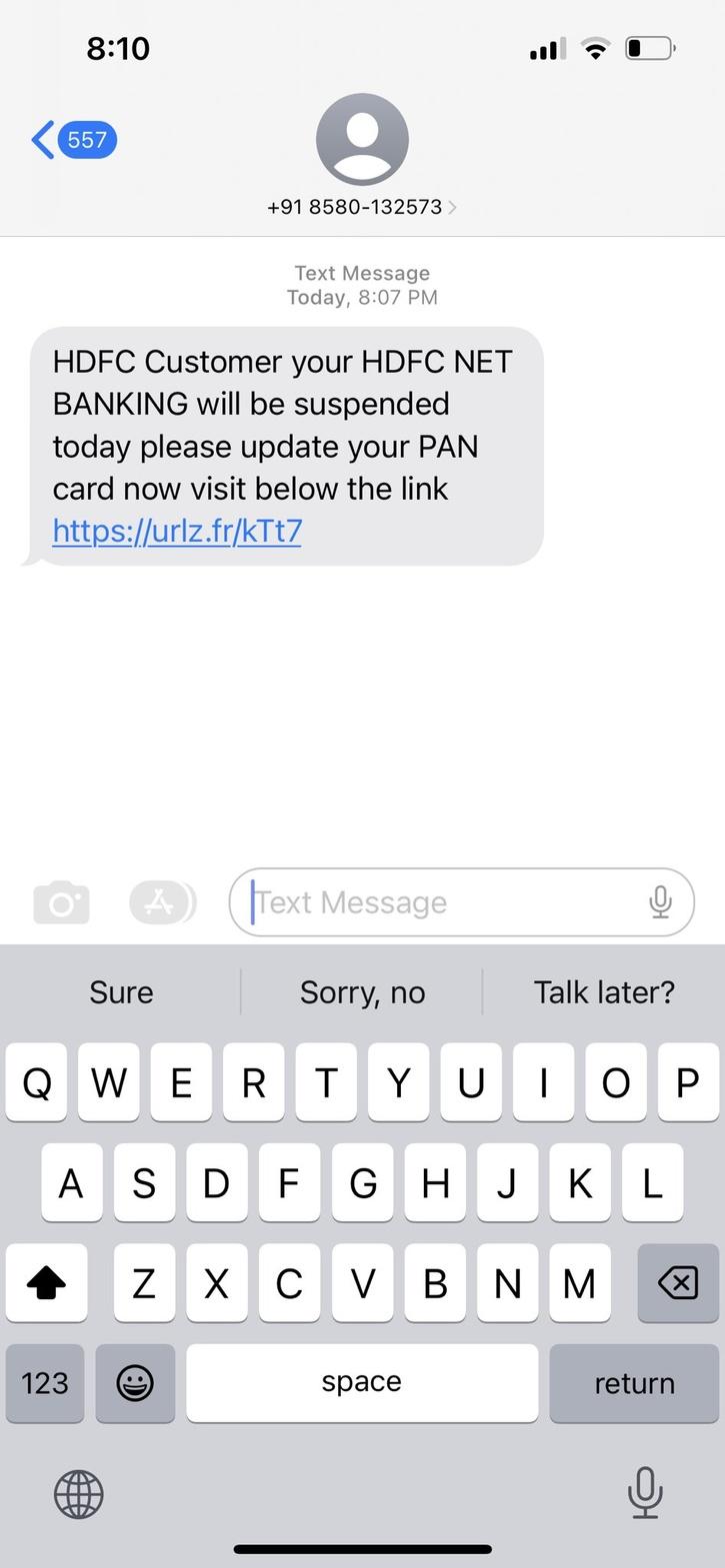 She also outlined how to recognize one of these scams. No bank will offer you links, Ms. Mohan stated on her list of advice. Either an app or a bank relationship manager will be in charge of everything they want you to do. Speak to your RM (Relationship Manager) before you ever click, even if you receive a LEGIT text message with a link. No bank will "ever ask you to do anything over the phone," she continued.
The "threat of immediate suspension," which Mohan claimed was "the biggest tell," allowed her to recognize that the communication was a hoax.
"Once more, no bank may suspend ANYTHING of yours unless certain governmental agencies demand it, and even then, a legal procedure must be followed. Excellent landing page design made the situation even more scary. Your PAN card and credentials are stolen in the fraud. Think of the things they could get away with if they had both. Here, tells include: Which URL is this? It ought to belong to HDFC. It reads HDFC KYC, not HDFC Bank," she said.
In this final paragraph, It is advised by Mohan to readers not to "click on any links from texts that claim to be from your bank." "If there is one topic you need to read right now, it's this one. My elderly parents frequently receive texts like this. Due to my high level of financial literacy, I was able to protect them against fraud. However, most of us are not as informed, as the user claimed.
A day has passed since the post was shared. The share has around 1.9 lakh views since it was posted, and the numbers are only rising. More than 700 others have liked the share as well.
What's Your Reaction?