All You Need To Know About Akshay Tritiya 2023
The celebration of Akshaya Tritiya is sometimes referred to as Akti or Akha Teej. This holiday is considered lucky by both Jains and Hindus. This celebration takes place on the third day of the Shukla Paksha in the Hindu month of Vaishakh. Hindus and Jains in India and Nepal observe this festival as an auspicious occasion. The mythical scriptures claim that whatever is accomplished on this day results in good fortune. As a result, this day is known as Akshaya Tritiya.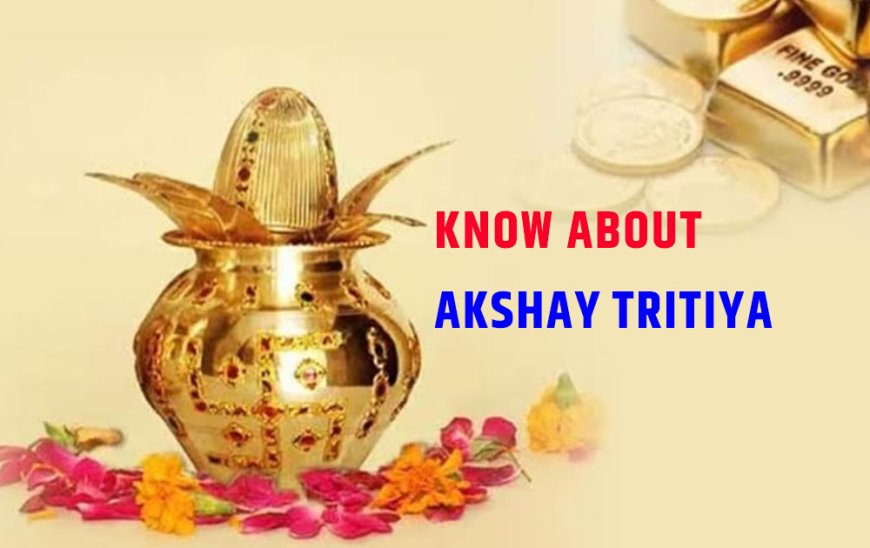 Important information
Tritiya Date Start : 22 April 2023 at 07:49 AM
Tritiya Date Ends : 23 April 2023 at 07:47 AM
Note: Uttarakhand's Char Dham Yatra starts today. Yamanotri, Gangotri, Badrinath, and Kedarnath are the Char Dhams.
Trivia: On this day, the Dwapar Yuga and the Mahabharata battle both came to a conclusion. Mother Annapurna was born, and Kubera won the treasure.
The Sanskrit words "Akshaya" and "Tritiya" both denote third in the order of importance. The Tritiya occurs on the Shukla Paksha every month, but the Shukla Paksha in Vaishakh is special since it is said to bring good luck. Since this is the most renowned muhurat, it has a unique significance. Any auspicious task can be completed on this day, including weddings, home entrances, and the purchase of apparel, jewelry, homes, property, and automobiles, among other things.
On this day, pind daan or any other type of contribution offered to the Pitros is said to be renewed. On this day, bathing in the Ganges can wash away all sins. This day marked the conclusion of both the Dwapar Yuga and the Mahabharata War.
Hinduism places a great emphasis on having a Ganga bath, and on the day of Akshay Tritiya, one should worship Lord Vishnu and Lakshmi and serve barley or wheat sattu, cucumber, and gram dal after taking a Ganga bath during the Brahma Muhurta. Brahmanas ought to eat and give to them.
A Few Details On Akshaya Tritiya That Everyone Must Know: -
The spiritual manifestation of Brahmaji's son, Akshay Kumar.

This day marked the conclusion of both the Dwapar Yuga and the Mahabharata War.

Annapurna's mother is born.

Shirdi Chiranjeevi Due to the fact that Parashurama was born, today is also his birth anniversary.

The treasure had been found by Kubera.

On Earth, Mother Ganga had arrived.

The Pandavas were endowed with regenerative traits by the Sun God.

The epic Mahabharata was begun by Ved Vyas ji with the help of Lord Ganesha.

Adinath Rishabhdev, the first Tirthankara, fasted for 13 months while drinking Ikshu (sugarcane) juice.

The well-known pilgrimage location Shri Badri Narayan Dham's doors have been opened.

Shri Krishna Charan may be seen in the Brindavan Banke Bihari temple.

The construction of Lord Jagannath's whole fleet of chariots has begun.

The Kanakadhara Stotra was written by Adi Shankaracharya.

Akshaya is Sanskrit for "one who never perishes"!

Any auspicious task can be started on Akshaya Tritiya, which is a self-proven Muhurta in and of itself.

The Uttarakhand Char Dham Yatra starts today. Yamanotri, Gangotri, Badrinath, and Kedarnath are the Char Dhams.
Aarti You Must Read
Aarti Kunj Bihari Ki

Shri Govardhan Maharaj Ki Aarti

Shri Khatu Shyam Ji Ki Aarti

Shri Krishna Ki Aarti

Banke Bihari Teri Aarti Gaun

Ekadashi Mata Ki Aarti

Shri Radha ji ki Aarti - Krishna sang jo kare niwasa

Shri Radha ji ki Aarti - Aarti Shri Vrishbhanu Suta Ki
Mantras You Must Chant
Om Namo Bhagavate Vasudevaya

Shri Krishna Verse - Mandam Hasantam Prabhaya

Vasudevasutan Devam - Krishna Mantra

Shri Radha Krishna Ashtakam

Sri Krishna Jayanti Nirnayah
Chalisa
Stuti
Stotram
Atha Shri Krishnashtakam

Sri Radhakrishna Stotram - Vande Navaghanshyam Pitkauseya
What's Your Reaction?